During the summer, me and Amanda Westin found out that the city of Umeå (our home town in the northern parts of Sweden) were throwing an app contest. The contest called out for application ideas that could help residents and tourists as well as companies in the region. Of course we were up for the challenge but in order to come up with a good solution – we needed a problem.
The problem we found is that it is hard to know were people are and what's going on in a town like Umeå. What adds to the problem is that cities in the cold north have most of their happenings indoors which makes them especially hard to spot.
Nowadays we often turn to digital guidance to find out what's going on. Twitter, Foursquare or other services might give us a clue about things close to us and Facebook can show us what our friends are up to (events and checkins) and have just recently started to recommend events for us. Some services limits the information to the circles of people we already know and in these cases we have to rely that they will share the information we are looking for. If things are going on outside of these circles it will be even harder to get informed about it through these services. Solutions to this exits and the large events and happenings will surely be mentioned in the city guides, but the ones that just happen, the spontaneous ones and that club without much planning might be the places where people actually decides to go and these are trickier to find. Challenge accepted. To find these events turned out to be the problem we set out to solve.
This problem would be easy to solve if only Facebook gave us the ability to search for events based on location. But this opportunity isn't available, not even through the graph api or by fql queries. The information is there, but locked down. Luckily for the people of Umeå we didn't let this get us down and now we're almost there. We didn't win the contest, but we came up with a solution using existing information and as soon as we iron out the kinks we will release a beta version of the app. If the app works the way it should we might even take the concept to other cities. But first things first. Be sure to keep and eye out here: http://www.signar.se/ume/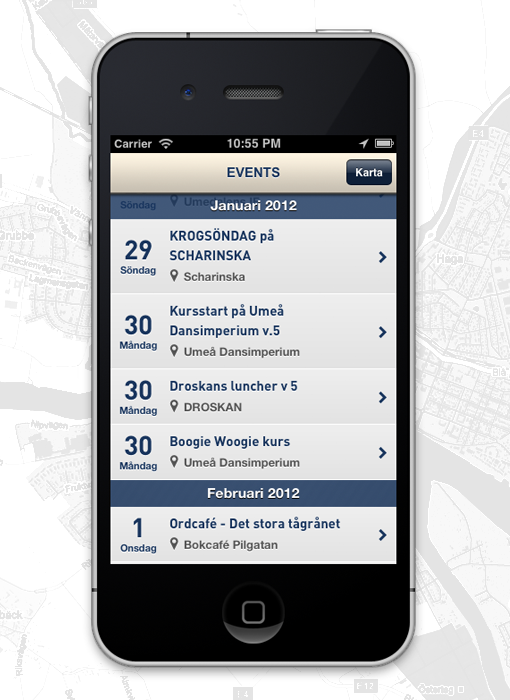 Above is a screenshot of the current revision of the app's event list view.