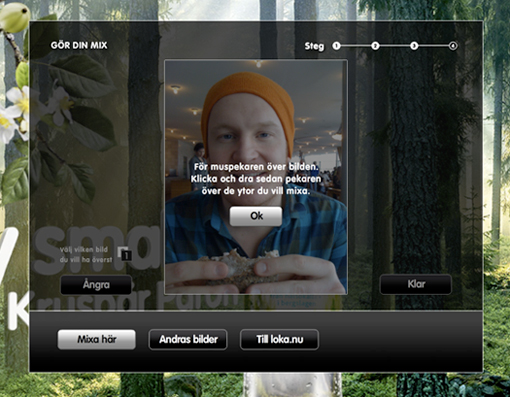 We at Lonely Duck recently produced a digital campaign for the new flavour of Loka, Krusbär Päron. The campaign focuses on the fact that two flavours are mixed. With this in mind we were given a brief of a digital solution where users can engage in mixing. And what is more engaging than mixing yourself with someone else. So that's what we did. The Loka Fejsmix, which is a face mix, but since we're targeting a young swedish audience the spelling is a bit swenglish.
The resulting web campaign was a face mixing application running both on Facebook and on Loka.nu. Here the user could choose to mix a face, either from the web cam or from the pc. Up to this date 5000 mixes has been made. In order to create a nice final result the lighting a color of the different photos should be similar. The final result could then be posted on Facebook, emailed and if the user wanted to, competing for a place in a dynamic banner and the chance to win a bunch of Loka:s. To make other users on Facebook aware of the origin of the mix the wall post is branded, Loka style.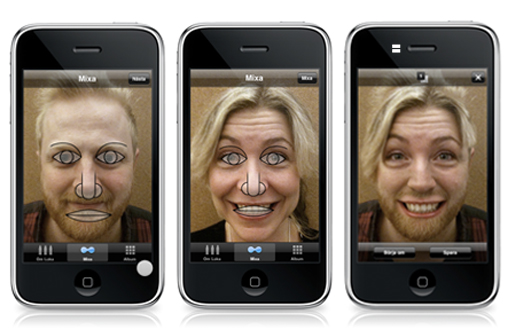 Since we at Lonely Duck has some extensive knowledge in iPhone development we also created an iPhone App for the campaign. This app named LOKA Fejsmix can be downloaded for free here The idea is the same, mix two faces, but in the context of a mobile phone. For the user this makes everything from the face marking process to the spontaneity of creating the mix a bit different. With a face mixer in the pocket, there is no place where a nice face mix can't be done. The similarities between the two entities is that the finished picture when shared on Facebook gets a unique url on the loka.nu website. Here others can see the mix and also continue to share the mix. The app has up to this date been downloaded more than 7000 times.